It's back to school season in Minneapolis and across the country, so we decided it might be a good time for a history lesson! According to the American Heart Association, CPR has existed in some form for hundreds of years, with the current method only developed within the last century.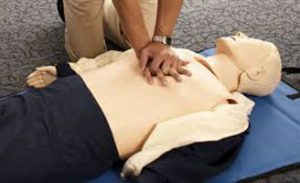 It's unclear whether any of these tactics actually worked, but it's interesting to see how CPR has changed throughout history.
Flagellation Method – Early Ages
This entailed whipping with stinging nettles, or striking with the hands or a wet cloth in order to rouse a response from the victim.
Bellows Method – 1530s
Rescuers used fireplace bellows, which were traditionally used to blow air into a lagging fire, to force air into the lungs.
Inversion and Barrel Methods – 1770s
Primarily used in drownings, the inversion method entailed hanging victims upside down to remove pressure from the lungs. In the barrel method, victims were rolled over a barrel to force chest compressions.
Trotting Horse Method – 1800s
Similar to the barrel method, pressure was manually applied to the chest – this time, by laying over a trotting horse.
Leroy Method – 1820s
This tactic was similar to today's hands-only CPR, in that victims were laid on their back. Pressure was then applied to the abdomen and chest.
Dalrymple Method – 1830s
This entailed placing a long cloth underneath a person lying on their back, crossing the cloth over the chest, and two people pulling on each end.
Mouth-to-Mouth Resuscitation – 1958
The rescuer blows into the victim's mouth, forcing air into the lungs.
Cardiopulmonary Resuscitation – 1960
This was a combination of mouth-to-mouth resuscitation and chest compressions.
Hands-Only CPR – 2008
In an effort to motivate more bystanders to perform CPR, the mouth-to-mouth resuscitation portion of modern CPR was removed.
Ready to learn hands-only CPR and be prepared to save a life? Register for a St. Paul CPR training course today.
HeartCert CPR is your trusted training partner for First Aid and CPR in the Twin Cities and throughout Minnesota. We now offer online, night and weekend classes to fit your busy schedule! We offer a variety of courses, including CPR/AED/First Aid and CPR/AED, Basic Life Support (BLS), Advanced Cardiac Life Support (ACLS), Pediatric Advanced Life Support (PALS), and Emergency Medical Responder – First Responder (EMR).
Find your CPR class at any of our convenient Twin Cities locations, including our new headquarters, HeartCert CPR Eagan.